Imagine you want to buy a new home. And you're able to use an app that connects property owners to you directly without having to pay a cut to any third party. Doesn't that sound ideal? Welcome to Dapps. They're just apps but with a lot more benefits like being more economical, no security threats, crypto friendly and a whole lot more!
What is a Dapp?
A Dapp is a decentralized application. Similar to a normal app but powered by blockchain. The main crux of it is the lack of a third party that can run efficiently with the help of smart contracts. Smart contracts help in cutting costs and instant transactions.
Although though Dapps have only been around since 2015, it is certainly the talk of town. There are currently 4000+ Dapps up and running! Many Dapps are built on the most popular blockchain platform Ethereum. They are also built on EOS, TRON, Polygon, Cardano and so on. Some of the most popular Dapps are Axie Infinity in the gaming industry, Open Sea as an NFT market place, Aave in the DeFi industry, etc.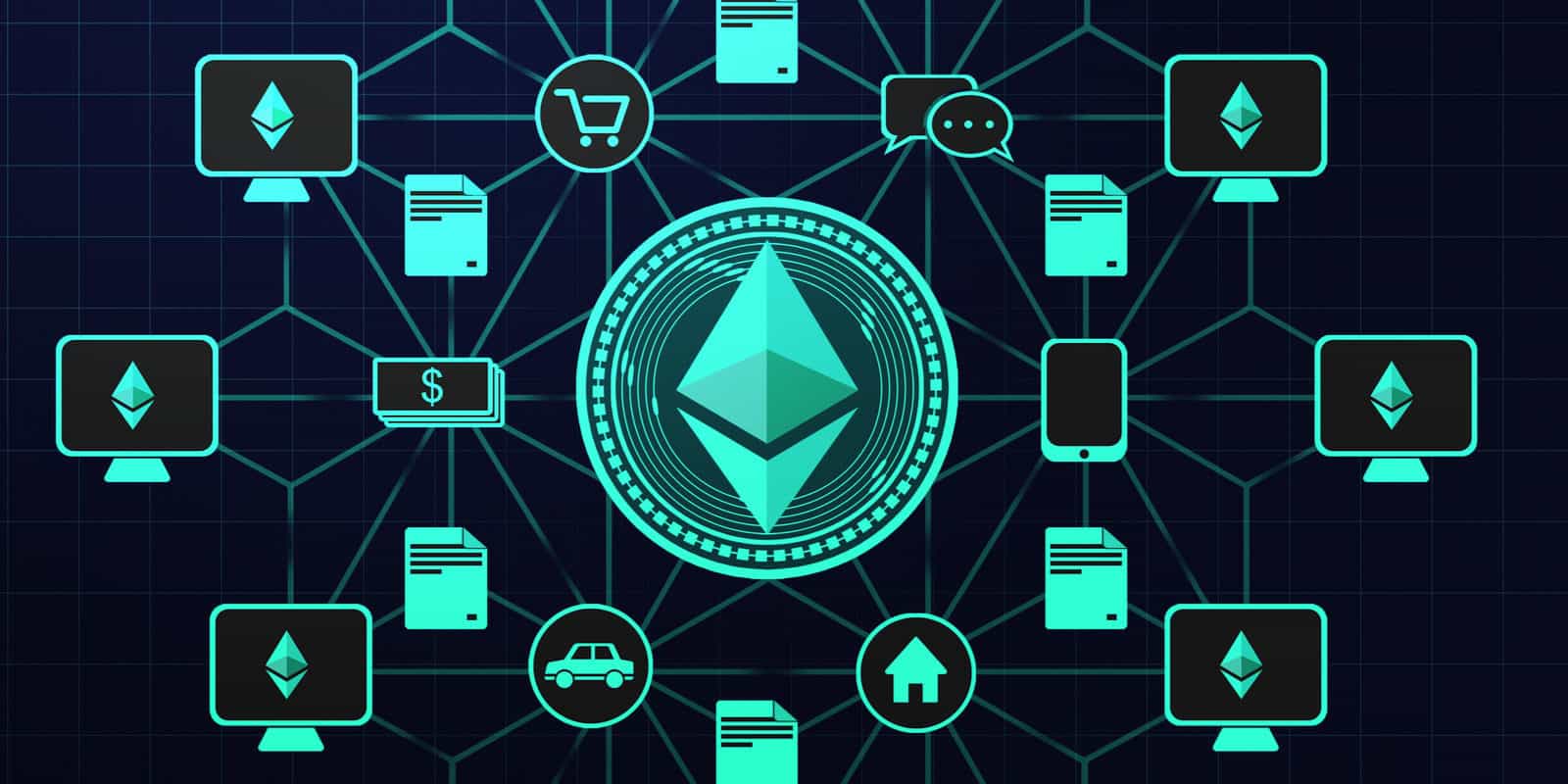 Quick glance of the features of a Dapp:
Open source code – completely available for company scrutiny.
No centralised authority – there is no entity in control.
All databases and records are public – accessibility to all ensure total transparency.
Cryptographic token – its use ensures a secure network.
Peer to peer network – connects users directly without the middleman.
Advantages of a Dapp over traditional apps:
Maintaining anonymity – Users enjoy absolute anonymity as they do as the Dapp does not require the indepth sign up processes.
Always up and running – The servers will always be up and running with no downtime. As it operates on a peer to peer network, even if individual computers are down, it will not affect the network. For example, last week Facebook had a major outage as Facebook, Whatsapp and Instagram were down for hours. This kind of incident would never take place in the case of a Dapp.
Speed – Transactions are instantaneous as they do not rely on any third party for facilitating the same.
Reliability – All data records are 100% reliable as users can access the blockchain to verify the transactions.
Smooth adoption of cryptocurrencies – As Dapps are built with smart contracts, cryptocurrencies can be very smoothly integrated into the functionalities of the Dapp.
Tamperproof – Dapps are extremely safe from the threat of cyber hacks and data breaches. It's decentralised nature makes records unalterable.
Censorship-resistant – There is no central authority or individual governing or controlling the Dapp. Censorship has been a huge problem that the masses do feel the pinch of with traditional apps.
Challenges that a Dapp faces:
Costs – The costs of developing are very high, this has been a large barrier for developers to push past.
Difficult in maintenance – As the network is evenly distributed amongst millions of nodes and computers, this makes maintenance, debugging and updates hard. This is as every peer must update their node software.
Lack of acceleration – Traditional apps are a large billion dollar market. On the other hand, dapps are just a multi million dollar market now. The number of new dapps created peaked in 2018, and slowed down since, But at the end of the day, Dapps are a brand new concept. It will take its own time through its life cycle.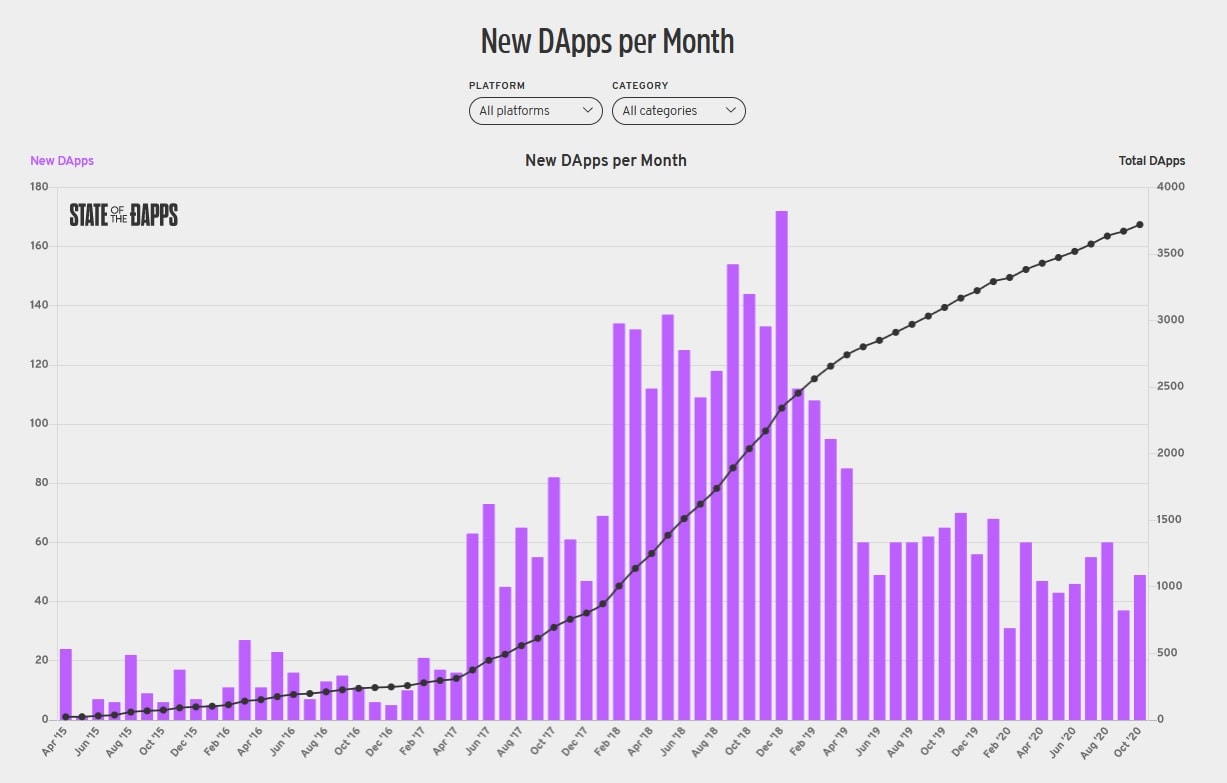 User experience – The user experience is not as intuitive as it ideally should be. For example, the Dapp requires a public and private key to sign in rather than a user ID and password, which is much easier to remember and understand.
The bright future of Dapps
Although a Dapp has a few challenges, it really does have a lot more benefits that overlook it. The beauty is that since the Dapp is open sourced to all, all the brightest minds in the world are free to come together to help it improve.
The use of blockchain is going to become more apparent in our day to day life. Financial firms have begun to adopt the technology, making the traditional processes more obsolete.
Dapps are growing in number and popularity slowly and steadily, it has already come such a long way in no time. We will be sure to see an explosion of Dapps soon!